Do you swaddle your baby? Then this is something that might be of interest to you! Spotted on Lil'Sugar, the Woombie is a cocoon-like sack with a zipper up its front that will not unravel over the course of the night. The peanut-shaped sack is snug enough to give babies the comfort of a traditional swaddle, but stretchy enough to allow babies to stretch their arms and legs and wiggle their way to comfort.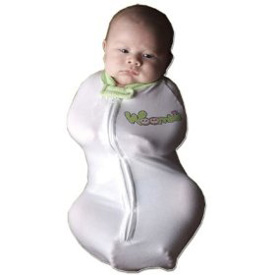 According to Lil'Sugar's mom testers, "their babies slept longer and more comfortably in it than in similar products. Though they were originally taken aback by the straight jacket-look."
To read more, click here.